Save money with our wooden train track expansion packs!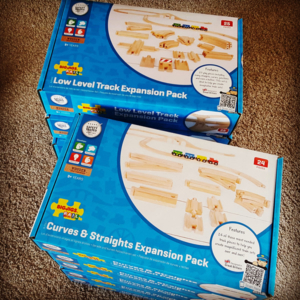 One of our most popular sellers are the wooden train track expansion packs from Bigjigs, because they offer such great value for money and convenience. If customers are looking for an easy way to expand their existing collection of wooden railway, then you can't go wrong with one of our expansion kits.
We offer multiple packs including a standard kit with different sizes of curved and straight pieces, one with some straights, curves but also splitters and track accessories and then a bridge kit complete with bridges, supports, ascenders and a few curves and straights!
By stocking different expansion packs, our customers can easily pick an option which best suits the track they already have. Many people even buy a few different packs at the same time and also add them to an order with more specialist track pieces that they may need.
All packs offer a nice saving over buying the same parts individually on the site and also offer a more convenient way of buying, without having to buy all the parts sold in the packs individually. They also make a great gift for any wooden railway mad child, coming complete as a boxed set and will allow them to create better layouts!
The Bigjigs expansion packs, as with all our wooden railway parts are also compatible with all other leading wooden track. This means that you do not have to worry about mixing with other brands or having to pay more money for your track on the high street! You can find out more about our track compatibility here.