New fully painted (2019) Thomas & Friends™ Wood trains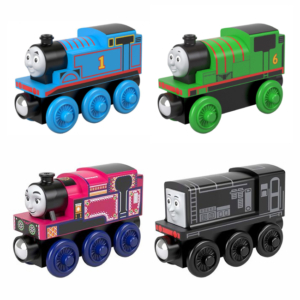 In 2018 Fisher-Price radically changed the design of their "Thomas & Friends™ Wooden Railway", creating the new "Thomas & Friends™ Wood" range, a design which showed natural wood as part of the design, with trains half painted. At the time there was some controversy over the change, but we found the design popular among parents and children, at a time where natural wooden toys are really making a comeback, the design felt in keeping amongst the high quality wood grain tracks that we have come to love.
Roll on 2019, some of you will be jumping for joy that Fisher-Price are bringing back fully painted designs! The shape and design of the actual trains will remain much the same as last year's design, but with full high quality painted livery. Now we have to admit, we LOVE both designs, but there is something very exciting about knowing the full coloured versions are making a comeback. This is a true opportunity for those that were not keen on last year's redesign to buy the versions that they want. For now we will be stocking both, which is great, as different customers have a preference for both designs.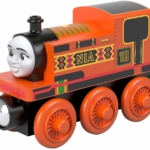 Our new Thomas & Friends™ Wood trains 2019 line-up will see Nia introduced, which many people have been reaching out to us and asking for through social media. As always, our Thomas range will be the correct UK versions, rather than US or Japanese. At the time of writing we have our stock reserved and ready to arrive with us in January, but for others reading this blog post later on, you will find we are fully stocked so you can purchase now!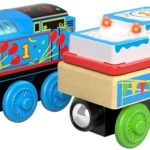 We are also excited to be stocking "Birthday Thomas" which is a fun train in the range, perfect for celebrating a Thomas mad child's birthday. It comes decorated with balloons and stars as part of the design and pulls a birthday cake carriage, which when pressed lights up and plays birthday music. A fantastic birthday present!
As with all the Thomas wooden trains we sell, they are compatible with your leading brands of wooden track, there is no need for having Thomas specific tracks or accessories. We find that many of our customers but the Thomas trains as an addition to their existing wooden train sets or as an additional item to the track and accessories they are purchasing from us.
We look forward to being able to provide you with the latest and greatest trains in the Thomas & Friends™ range through 2019!