Are wooden train tracks, trains and sets compatible with each other?
One of the biggest questions we hear people ask is whether the wooden track or parts they are buying will be compatible with their current track or set. The general answer to this question is YES! The majority of wooden train track out there is fully compatible with each other and the parts such as trains, bridges, tunnels and buildings can all be connected and used without any problems at all.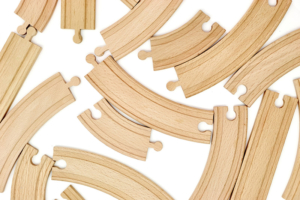 The main wooden railway brands in the UK and throughout the world include Brio, Bigjigs, Maxim, ELC, Eichhorn, Imaginarium, KidKraft, Lillabo (Ikea), Thomas & Friends and others. The great thing about the suppliers of wooden railway is that they tend to create the parts in near identical sizing and format, allowing you to pick up pieces from multiple brands and expand your railway as in when you stumble across the parts you need. It is also worth noting that certain brands offer differing switches, turnouts and other specialist pieces and sizes, which overtime will help create the uniqueness of your set and is the advantage of using multiple companies products. All the compatible pieces feature the same broad connections and grooves of around 3mm deep, 5mm wide and with a 20mm gap between!
One brand of wooden railway that was mentioned a few years ago was the Lillabo range by Ikea, notably because people said they had problems with its compatibility with other wooden track due to the nature of how it had plastic connectors to form a male join and attach the tracks together. Many found that the plastic joint would simply not fit into your average female end of wooden railway without some modification and even using the male end of other brands would create a loose and wobbly fit against the female end of the Ikea track. Looking at their current range though it seems that they have rectified this problem by designing their track now with the standardised wooden connections and specifically state that their track "Combines with most other railway systems on the market." In our opinion the general rule of thumb here would be that if you have the old version of their track it may not be compatible, whereas there should be no problem going forward with their current range!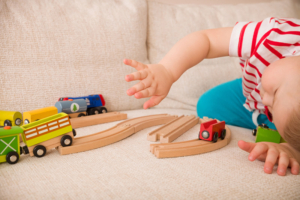 When it comes to additional parts such as buildings, stations, engine sheds, bridges, tunnels, cranes and other accessories, these can also be supplied from multiple brands and although all vary in style and price, again they will fit with all major brands of wooden train track!
Equally the wooden trains themselves also fit and run on all the leading brands of wooden railway, with even the newer battery operated trains able to run up and down each brand of track. The metallic domes on the trains are also created in a standardised way to allow connection of different carriages and wagons from other sets. It is also worth noting that the hugely popular Thomas & Friends trains do not have to be used on Thomas specific track and can indeed be used on others…
Here on WoodenRailways.co.uk we stock our track, trains, parts and sets from multiple leading brands to offer you a wide selection of parts and affordable prices! We are always looking at what is currently on the market and aim to put the latest and most interesting pieces on the site. You are also assured when buying from this site that all the track and parts we sell are fully compatible not just with each other, but also with the other leading brands that we may not stock.