Bigjigs Wooden Toys, Trains, Rail & Train Sets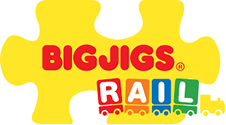 The Story
Here at Wooden Railways, we are proud to stock a huge range of Bigjigs wooden railway products, including a diverse range of trains, track and sets. Bigjigs is a UK based family run business based in Kent, started in 1985 out of the founders shed!
As teachers, the husband and wife team had always had child development and education as part of their lives and started the business by creating wooden jigsaws to sell at craft fairs up and down the UK. They are now proud to distribute through 93 countries worldwide!
These days the business has grown from strength to strength and is a true British family business success story. In 2017 the founders sons also became directors of the company and are proud to have their grandchildren helping to play with and test the toys, maybe the next generation of directors in the making?
Ethical, Safe Toys, Made to Last!
Bijigs toys are ethically sourced and created using hardwood that would often be discarded as a byproduct. By using solid hardwoods, the finest quality toys can be created which will stand the test of time. These are the type of products which can be passed down through the family, being used time and time again, much like many traditional favourites.
Bigjigs design their toys at their Kent HQ and put dedicated research and testing into each product to encourage children to play, explore and learn safely. There is a huge range of different products available to suit all, in multiple themes and collections with regular updated and additions to the product line.
The toys are tested independently to meet European and/or North American regulations, which involves thorough analysis of paint and chemicals as well as durability testing. With young children often putting things in their mouths, this is crucially important and you can be assured that Bigjigs products have no damaging chemicals or surface coverings.
Bigjigs Trains
The main thing we love about the Bigjigs train range is the mix of fun, realism and heritage across the product range. The range includes themed, fun trains such as pirate, farm, dinosaur and princess trains, but then delves into highly realistic heritage trains such as the Flying Scotsman, Mallard and Eisenhower to name just a few, bringing to life trains from yesteryear for children to enjoy today.
We also love the official licensed products such as the Virgin Pendalino trains and Eurostar e320. A way of adding modern day realism to the train track, your child will feel like they are running a real train empire! Bigjigs also have a line of battery operated trains, which although aren't created from wood, work perfectly on wooden track as with all the other trains in the range.
Bigjigs Rail
The Bigjigs Rail range is diverse and includes many types of wooden track and accessories which are compatible with other leading wooden railway. In fact we stock other manufacturers products here on our shop and it all works together perfectly! As with their trains, the Bigjigs track and accessories are of amazing quality and priced fairly. There are parts available for all types of layouts, leaving your imagination to create the ultimate wooden train set which can be grown over time and changed each and every play!
When it comes to track the Bigjigs Expansion Packs are great value for money and offer a wide range of pieces, whilst saving you money over buying the parts individually. A great way to get started expanding your train set. There are also many different buildings, bridges, tunnels and versatile parts either in standard form or as part of wild and wonderful themes. Our feedback from customers has been great about the Bigjigs Rail range, because of its quality, fun themes and price point.
Bigjigs Train Sets
The Bigjigs Train sets have been hugely popular. They make the ultimate gift and give a huge head start to your collection. The sets come in many different shapes, sizes and prices to suit all tastes and budgets. They come adorned with wonderful accessories and parts which make them fantastic to play with.
We also love the way that wooden train sets can not only be setup as designed, but can be mixed and changed to create different and diverse layouts. You can also add to them over time with the extra track, pieces and trains found on this site! We offer small first wooden train sets, through to much larger and complex sets.
Why buy Bigjigs from WoodenRailways.co.uk?
As another family run business with a love for wooden toys and railway, we take great care and pride in the products that we stock on our site. We pack each parcel knowing that there may well be a very excited child opening the box at the other end and take pride in getting the delivery to you quickly and neatly.
We stock wooden railway parts from a range of different manufacturers as well as Bigjigs which are all compatible with each other, so you can mix and match other products with the Bigjigs range in your order. We are also competitively priced and offer free delivery on orders of £50 or above. From time to time we also offer codes and vouchers so make sure to check on the site, our social media accounts or email newsletter if you are an existing customer.
We hope that you consider us for your next Bigjigs order and look forward to being able to supply you with any wooden railway. If you do have any concerns, questions or feedback then please do not hesitate to get in contact with us!